Featuring New Zealand Blackcurrants, Aloe Vera, Mangosteen, Maqui Berry, Açai, Pomegranate And Other Antioxidants.


SaXi™ brings science and nature from around the world together to provide a proprietary blend of antioxidant-rich super juices, including New Zealand Blackcurrant Juice, Mangosteen Juice, Pomegranate Juice, Açai Juice, Elderberry Extract and Patented Aloe Vera Juice.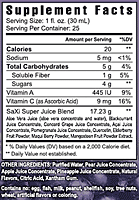 New Zealand is known for its nutrient-rich volcanic soils and SaXi™ perfectly captures the essence of these nutrients to help promote optimal wellness. The highlight of SaXi™ is the New Zealand Blackcurrant, a member of the SaXifragales plant family.
Blackcurrants put other fruits and vegetables to shame when it comes to antioxidant content!
Due to the high level of anthocyanins (a specific type of powerful antioxidant), flavonoids and polyphenols, Blackcurrants boast a higher antioxidant activity than other commercially-available berries, fruits and vegetables. With high levels of Vitamin C (four times higher than your average orange!), Vitamin B, Vitamin E, Copper, Potassium, and Omega 3 and 6 — Blackcurrants contain a healthy dose of soluble fiber too!
Directions: Shake well before opening. Mix 1 oz of SaXi™ with cooled purified water or your favourite fruit juice. Take 1 to 2 oz daily.
Featuring New Zealand Blackcurrant
Açai Juice
Maqui Berry
Mangosteen Fruit,
Pomegranate Juice
Elderberry Extract
Patented Aloe Vera Juice.
No Artifical Ingredients, Sweeteners or Preservatives
High Antioxidant Content

Anthocyanins
Flavonoids
Polyphenols
Additional Information
Audio Presentation
Listen to Mark McKnight, chief product formulator for DrinkACT, introduce SaXi™ and announce the results of the ORAC testing. This recording is part of the DrinkACThelp.com podcast; Episode 77 from Thu Jul 22 2010.
SaXi™ Webinar
To learn more about SaX™, watch this webinar recorded June 3, 2010.